Fluxtime
Enriched Bread Artists, Ottawa's largest art studio cooperative, is celebrat- ing 27 years strong with its Annual Open Studio. Housing 22 artists work- ing in diverse media, including painting, drawing, photography, textiles, sculpture, digital and mixed media, Enriched Bread Artists is an artistic laboratory dedicated to the promotion of the arts, those who create it, and the benefits that the arts bring to all communities, locally, nationally and in- ternationally. Meet with the artists in their studios, enjoy the two-floor art exhibition and participate in our Special Events. Feed your creative soul and support the artists in your neighbourhood.
Events
Vernissage: Fri, Oct 18, 2019, 6 to 9pm
---
Open Studio continues over two weekends: October 19th, 20th, 26th and 27th everyday from noon to 6pm.
A Call for Cultural Courage: Making Space for Artists Studios and Creativity in Ottawa: Sat, Oct 26, 2019, 1pm
---
Join us to discuss how arts and culture can be a catalyst for cultural, community and urban development. There will be a specific focus on developing artistic hubs as speakers share their experiences of successful models for artists studios in other cities.
3 speakers: Artscape Assaf Weisz, Chief Strategy Officer Based in Toronto, Artscape has generated national attention through a model based on "creative placemaking" that seeks to leverage the power of arts and culture as a catalyst for cultural, community and urban development.
Ateliers Creatifs Gilles Renaud, General Manager Ateliers Creatifs in Montréal is a non-profit organization whose mandate is to develop and protect affordable, adequate and sustainable workplaces and creation for professional artists in the visual arts, crafts and cultural organizations.
Studio Space Ottawa, Art Services Organization Kathy Bergquist, Co-founder and President of the Board of Directors Studio Space Ottawa is an arts sector not for profit recently established in July 2019 and created for the sole purpose of creating affordable, stable, open, and safe, healthy workspaces for visual artists.
Coordinators and Moderators: Cindy Stelmackowich and Dan Sharp.
Participating Artists:  Sarah Anderson, Colette Gréco-Riddle, Sayward Johnson, Gayle Kells, Karina Kraenzle, Juliana McDonald, Valerie P. Noftle, Bozica Radjenovic, Daniel Sharp, Cindy Stelmackowich, Svetlana Swinimer, Sharon Vanstarkenburg, Tavi Weisz, Joyce Westrop, and Yvonne Wiegers.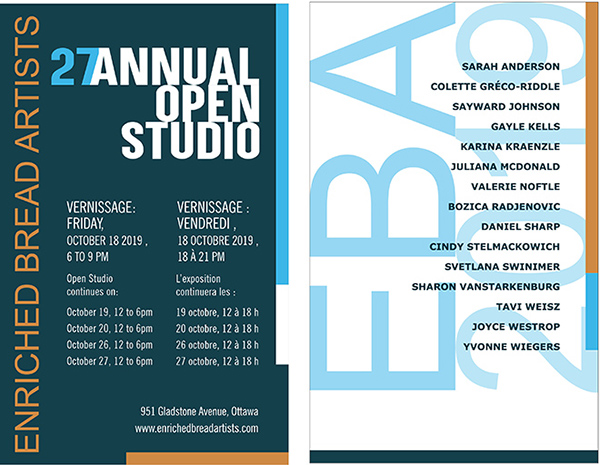 ---
#enrichedbreadartists #eba27 #eba
EBA Open Studio 2019
Photos by David Barbour