EBA 30
CELEBRATING THREE DECADES OF CREATIVITY
We're celebrating 30 years of Enriched Bread Artists and you're invited.
This year's Open Studio will feature a gallery show and special events; most participating artist studios will be open for visits.
CBC All in a Day with Alan Neal
Enriched Bread Artists celebrate 30th anniversary
Audio clip
Vernissage Thursday, October 20. 6pm – 9pm
Cash bar and snacks. Beats provided by dj Michael Caffery

Open Studio continues over two weekends
First weekend:
Saturday, October 22, 11 am – 5 pm
Sunday, October 23, 11 am – 5 pm
Second weekend:
Saturday, October 29, 11 am – 5 pm
Sunday, October 30, 11 am – 5 pm
---
Events
Thursday, Oct 20, 2022, at 7:30pm
Live performance
How to Explain Pictures to a Dead Beuys: The Short Version by Jenny McMaster
In this performance, Joseph Beuys' infamous dead hare trades places with the dead artist taking on the position of instructor or guide. In 1965 Beuys sat silently with the small animal and then took it around a gallery space appearing to whisper in its ear, because even a dead hare would have a better understanding of the creative process than most critics and academics. Dressed as a demonstrative hare I will take a diminutive Beuys on a tour of the space at the EBA. This performance is my interrogation of Beuys usage of hare as a symbolic object rather than a living creature, the interrogation however is a compassionate one, Beuys is the size of a baby, one is compelled to feel a measure of tenderness.
My performance work investigates how we perceive and experience our relationship with our natural and social environment and who and what we perceive to be objects rather than subjects. As sculptures double as costume in my work, the inanimate may become animate and vise versa. Animals, edibles, food, and fashion are the subjects of investigation. Stitch-work, recycled fabrics, and handmade paper are my mediums. Some of my recent performances include Meat Meet (Gallery 101, 2016) and In and Out of the Cake (EBA, 2017), This Season's Colours (EBA, 2021).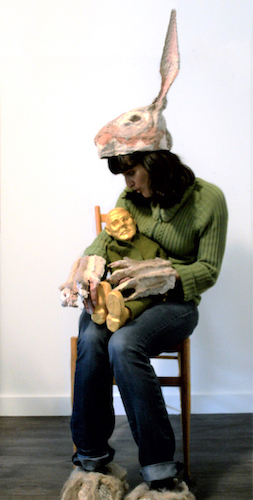 ---

Sunday, October 23, 11AM – 5PM
Live-streamed performance
HAIR CUT PIECE by Rachel Kalpana James with Svetlana Swinimer
Articipate brings "Hair Cut Piece" from New York to Orleans and live-streams to EBA Open Studio! If you can 'cut' it here, you can 'cut' it anywhere!
Will YOU sacrifice a lock of your hair for someone else's beauty? Join us for this Interactive performance October 23, 2022!
HAIR CUT PIECE
A durational, ritualistic haircut – until all the hair is cut!
Indian women's hair is highly valued as touted by TrueIndianHair.com, which "provides…hair culled directly from donors in East Indian Temples." The work addresses notions of capitalism and philanthropy, and invites the public to sacrifice a lock of their hair for someone else's beauty.
Created and performed by Rachel Kalpana James (former EBA artist), with Svetlana Swinimer (EBA artist).
Sunday, October 23, 2022: 11AM – 5PM as part of the No Borders Festival, live at the Upper Lobby of the Shenkman Centre and live-streamed to EBA Open Studio.
---

Saturday, October 29th, 1PM – 2PM
Artist Talk
Temporary Public Art – Permanent Benefits with Jennifer Anne Kelly and Christos Pantieras.
Artists Jennifer Anne Kelly and Christos Pantieras were selected for the City of Ottawa O-Train Public Art Program: Reflection/Inflection Arts Response Project's Public Art Accelerator, and mentored by Third Way Creative through a community-engaged art process in the Spring and Summer of 2022. This Fall both artists are showcasing their final temporary artworks throughout Ottawa.
Jennifer Anne Kelly's Ottawa Miniature Gallery (OMG) removes the common obstacles to the formal gallery experience by producing a moveable miniature gallery space that houses the work of twenty-five Ottawa Artists inside tiny rooms of the three-story dollhouse-sized structure. The OMG is being exhibited in various pop-up locations. Christos Pantieras' The Welcome Back Project consists of community and artist-produced welcome mat artworks as a response to the question: "What makes a welcoming community?". The artworks, created by twenty-one visual artists and over 150 community participants, are being brought to the public through a Community Art Crawl and three pop-up exhibitions.
Both artists will provide an overview of their projects from start to finish, and share their challenges and successes of taking on these new professional opportunities.
---

Participating Artists
Sarah Anderson ● Maren Kathleen Elliott ● Sandra Gregson ● Sayward Johnson ● Gayle Kells ● Patricia Kenny ● Clara Kim ● Karina Kraenzle ● Juliana McDonald ● Jenny McMaster ● Valerie P. Noftle ● Christos Pantieras ● Bozica Radjenovic ● Colette Gréco-Riddle ● Daniel Sharp ● Cindy Stelmackowich ● Svetlana Swinimer ● Tavi Weisz ● Joyce Westrop ● Yvonne Wiegers
photo by: Joyce Westrop
---